It's May Day over here in Europe and that means that the fascists will march in the Sudetenland again.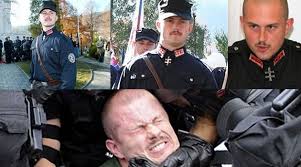 These are from the past of course.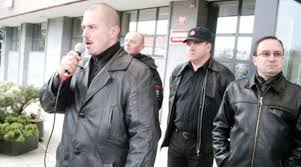 Lovely looking blokes eh?
Of course, this is Usti nad Labem in the free and democratic Czech Republic, not Aussig in the Sudetenland any more so everyone has a right to a parade of their ignorance and hatred. Just as those who oppose them have the right to counter-demo and that's exactly what is happening today in this fair city. With an appropriate number of burly policemen to protect the free speech and freedom of association rights of all.
All is, therefore, as it should be.
No one seems to be expecting anything other than a bit of that demonstration of those rights. 50 metres off the parade route there's a little pedalo go-cart set up with four years olds furiously whizzing around the course. But that's the Czech way, let the intelligent and sensible have their fun while the morons have their march.